Fluoroelastomer Centre
What does ZruElast® FPM stand for?
ZruElast is a registered trade mark of Zrunek Gummiwaren GmbH. The name ZruElast represents all tested, specified and proven elastic materials made by Zrunek. Since more than 60 years, our in-house laboratory provides complete compound development and testing services. The laboratory is supervised by Dr. Ulrich Zrunek himself, a doctorate chemist.
Unlike plastics technology, where the ready-to-process raw materials have to be purchased directly from the chemicals groups, rubber materials first have to be compounded based on a formulation. For this process, fillers, plasticizers and various other chemicals are added to and mixed with the base polymer (rubber). Only the proper combination of these raw materials results in the desired properties which are expected of the developed elastomer. Rubber formulation and compound development not only requires extensive expertise and experience but also appropriate laboratory facilities and equipment.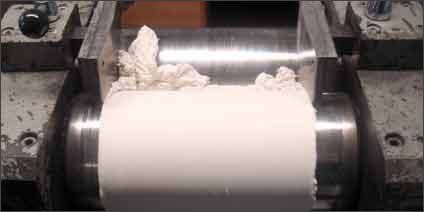 ZruElast FPM compound mixed on a labratory rolling mill